Empowering companies and individuals to achieve global success.
Cheryl Obal & Associates is a cross-cultural training and consulting company that helps organizations improve their cross-cultural competence. Cultural differences and cross cultural awareness are apparent in all aspects of business. From how your employees behave to what they want from their workplace, culture plays a significant role in the success of your company.
If you're not careful, cultural differences can lead to misunderstandings and frustration among coworkers or even deter people from joining your organization altogether. To prevent this, it's important that you create an environment that promotes cross-cultural understanding by incorporating elements like open communication and feedback into company policies.
Cross-cultural communication
Gain knowledge and improve your experience to enter a new market successfully with our help.
Business Setup in Italy
The main access point to the European economic community.
We provide consultation with an expert and company setup in Italy. Get your company registered in Italy and start your Italian business with our help and relationship support along the way.
Business Setup in India
Opening your business in India just got a lot easier.
We connect you with partners for business setup as well as outsourcing all your technology needs. The best way to enter the Indian market is by using a trusted and vetted partner.
Business Setup in Saudi Arabia
Big opportunities beyond the energy sector.
Saudi Arabia is currently one of the most attractive markets to set up your company in. Our partners are ready to get your company's branch set up and guide you through the entire process.
Business Setup in the UAE
Did you know that the UAE ranked 16th overall in ease in doing business, on the World Bank Doing Business Report 2020?
We provide you with the consultation and cultural training needed to succeed in Dubai, plus a free referral to our partners to set up your business.
Imagine your company thriving in these countries.
You'll have access to a huge talent pool and abundance of resources, new opportunities, and more revenue streams.
But here is the BIG QUESTION…
Are you ready to expand your business in these countries?
Barriers to cross-cultural communication
"The biggest problem companies face when working across borders is not marketing, sales, or generating leads. It's lack of cross-cultural competence."
Most companies fail to survive when working across borders because:
They don't know the culture in the target market.

They don't have a cross-cultural consultant to guide them through the process.

They don't have any personal contacts in those countries where they want to set up.

They are afraid to invest their money in a foreign market.

They are worried about taxation, compliance, or IP issues.

They are misinformed of the costs and time frames needed to set up in a foreign market.

They don't know how to gain clients in a foreign country.

They lack intercultural competence.

Their management lacks experience in the new market.
cross cultural consultant
Why does your company need cross-cultural communication training?
A company needs cross-cultural communication training because it's becoming increasingly difficult for organizations to operate in a global economy without understanding the influence of culture on their operations.
This training helps companies overcome these challenges and succeed in a diverse, global marketplace.
Assist with the development of strategies to target foreign markets
Support business teams by providing guidance on how to adapt their messages and conduct themselves for maximum effectiveness overseas
Provide insights into the local business culture so that business teams can be comfortable and productive when conducting meetings, making presentations, negotiation or collaborating with local partners
Provide a range of bespoke communication training that enhances cultural understanding for employees at all levels in the organization
Help you develop an effective strategy to cope with globalization which is vital to ensure success abroad
The reason why you will thrive with our expertise
International Business
Want to open your business or a branch of your company abroad? We connect you to trusted local partners for the setup, give you all the cross-cultural consultancy you need, and provide relationship support throughout the process.
Consulting
Want to explore the idea of setting up abroad? Don't know where to start? Let's connect and we'll work through your questions and concerns. Our skilled consultants will work with you one-on-one to create a plan.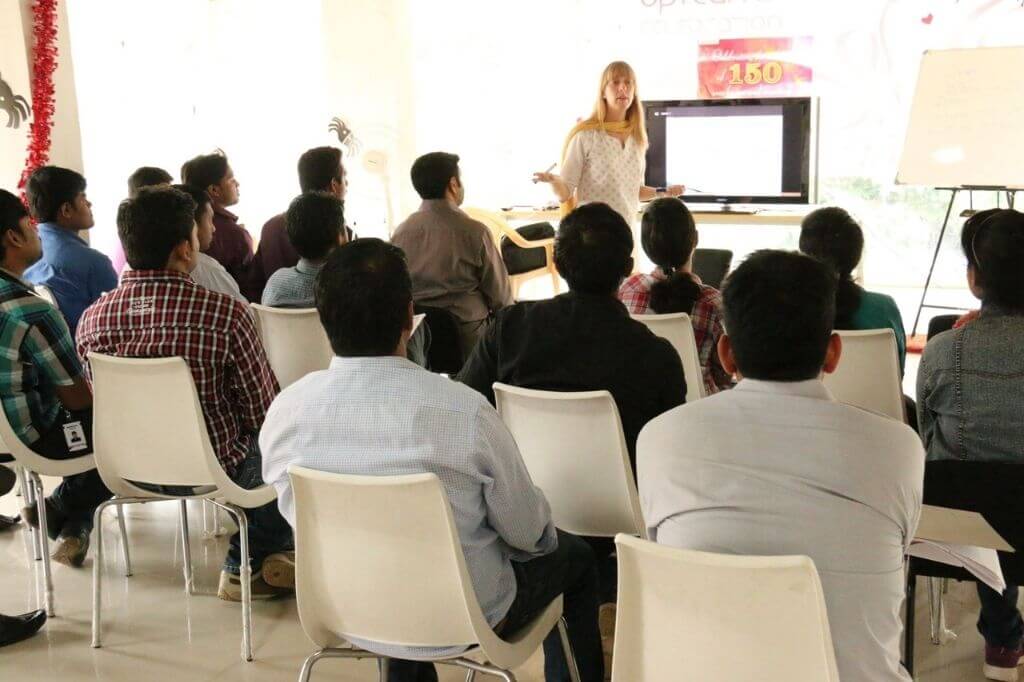 Cross-Cultural Training
Is your company working across borders, but facing difficulties? Are your managers lacking in intercultural leadership skills? Are your teams having issues connecting to foreign partners? You've come to the right place for cross-cultural solutions.
Achieve higher ROI by understanding the market you're working in.
Develop relationships and knowledge that lead to success.
Meet Cheryl, the founder
My life's passion is helping people from different cultures work together successfully. Originally from the US, I have lived abroad for the last 20 years. My career has led me to travel to 60 countries and work as a cross-cultural trainer at multinational companies and institutions all over the world including Microsoft, Hyundai, Samsung, Tupperware, Pfizer, eBay, and many more. Throughout this time, I have learned how to effectively work, live, do business, communicate, and thrive in cultures very different from my own. I developed key techniques and strategies in my unique program with content designed to help you break barriers and build bridges.
"Cheryl is highly educated, experienced in many different ways, very organized and a well-liked person. She has a lot of energy and enthusiasm, which brings her activities to life and can be quite creative and entertaining. Her passion in what she does is definitely noticeable by the results of her work. This is one person who would lift up a company's spirit and give value. Her wealth of global experience shows that she can adapt to any environment and still be the same professional and upbeat person."
Deacon Pereto
Entrepreneur
"It was my pleasure to be in such a wonderful class, given by a wonderful instructor. The subject in my opinion applies across the organization: new hires, even staff who've been here a long time for objective awareness. I've suggested this to my Director and Business Manager, to allow for such a presentation within our department."
Marie Hazelwood
Executive Assistant
"Cheryl is an excellent and fun teacher and extremely talented for business. She is very charismatic and knowing her makes a difference in your life."
Shona Secor
Artist
Culture, Business, & Travel Blog
Hello everyone and welcome back to my blog, the...
read more
Companies Cheryl Obal has provided services for: